MOVIE REVIEW
Sarah's Hope
Reviewed by: Douglas Downs
STAFF WRITER
Good
Moviemaking Quality:
Primary Audience:
Teens, Adults
Genre:
Drama
Length:
27 min.
Year of Release:
2005
USA Release:
Direct to DVD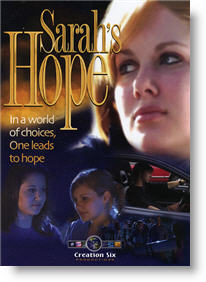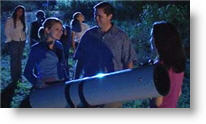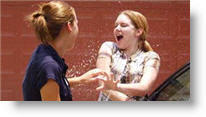 Relevant Issues
How do we know the Bible is true? Answer
Answers to supposed Bible "contradictions" and puzzles
Top choice for accurate, in-depth information on Creation/Evolution. The SuperLibrary is provided by a top team of experts from various respected creationist organizations who answer your questions on a wide variety of topics. Multilingual.
What are the biblical guidelines for dating relationships? Answer
| | |
| --- | --- |
| Featuring | |
| Director | |
| Producer | Steve Huedepohl |
| Distributor | Creation Six Productions |
"In a world of choices, one leads to hope."
"Sarah's Hope" is a Christian film trying to deliver a positive message to the youth culture about faith and redemption.
First, to understand the film, it is important to understand the mission of the film company Creation Six. Here is their mission statement.
"Creation Six Productions is committed to producing Christ-honoring films and materials that present hope through the truths of God's Word. By contrasting the two worldviews of evolution versus a literal, six-day creation as told in the Bible, Creation Six desires to help audiences see the awesome hope available through belief in the Creator God, and the hopelessness offered by evolution.

Creation Six aspires to produce wholesome, entertaining, quality films that provide an alternative for families today. This company certain succeeds in fulfilling that mission with this drama."
"Sarah's Hope" is about a 16 year-old girl who is hurting over the death of her sister Lauren. She is caught up in the culture that tries to find fun at parties and staying out late. Sarah begins to long for something more. She notices a classmate named Rebecca that shares some of the same beliefs as her sister. In a heartwarming way, Rebecca begins to share her faith. There are some strong segments that demonstrate a Christian's opposition to the theory of Evolution. The Creation Six web site at www.creation6.com also contains some helpful facts about Creation.
I do recommend this film without any reservation. It is the perfect length for a youth meeting, witnessing at home or as a set up for discussion. The film does present the Gospel, but it may not be enough to convince someone living in sin. The story should encourage Christian teens to remember how important their witness is and standing up for what they believe. This may open other doors to share your faith.
The DVD contains two versions of the film. One version has a mild, indirect sexual reference, and one doesn't contain anything offensive. I honestly don't think that the first version will offend most Christian audiences. I also think that the story needs that plot point to really make the case for hope.
Violence: None / Profanity: None / Sex/Nudity: None
See list of Relevant Issues—questions-and-answers.
Positive
---