Me and You, Us, Forever
not reviewed
Moviemaking Quality:
Primary Audience:
Teens, Adults
Genre:
Drama, Romance, Christian
Length:
Year of Release:
2008
USA Release:
February 15, 2008 (limited)
DVD: September 9, 2008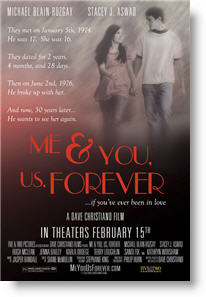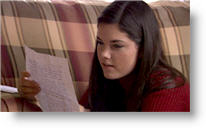 Relevant Issues
What is true love and how do you know when you have found it? Answer
Learn how to make your love the best it can be. Discover biblical answers to questions about sex, marriage, sexual addictions, and more.
Is formalized marriage becoming obsolete? Answer
Many people are convinced that traditional marriages don't work and that this practice should be abandoned. What does the Bible say about marriage?
Christian Divorce and Remarriage—Under what conditions may Christians divorce and remarry? Answer
What should a Christian do if overwhelmed with depression? Answer
Why does God allow innocent people to suffer? Answer
What about the issue of suffering? Doesn't this prove that there is no God and that we are on our own? Answer
Does God feel our pain? Answer
What about the Psalm 91 promises? ("…no harm will befall you, no disaster will come near your tent…") Answer
Fear, Anxiety and Worry… What does the Bible say? Answer
How can I be and feel forgiven? Answer
If God forgives me every time I ask, why do I still feel so guilty? Answer
| | |
| --- | --- |
| Featuring: | Michael Blain-Rozgay, Stacey J. Aswad, Hugh McLean, Jenna Bailey, Karla Droege, Terry Loughlin, Sandi Fix, Kathryn Worsham, Kate Leahey, Leanna Spear, Genevieve Borden, Jake Goodchild |
| Director: | Dave Christiano |
| Producer: | Dave Christiano Films |
| Distributor: | Five and Two Pictures |
"If you've ever been in love"
Here's what the distributor says about their film: "A love story based in 1974 and 2004. A 47 year old Christian man, on the other side of an unwanted divorce, thinks back and reminisces about his old high school girlfriend of 30 years ago."
Help For the Hurting
Divorce.
The dictionary may describe "divorce" one way but Dave Christiano, the writer of the upcoming movie, "Me and You, Us, Forever," has a definition for it that's to the point:
"Pain! For all involved and touched by it."
"Me and You, Us, Forever" is the story about a 47 year old Christian man who is the victom of an unwanted divorce and reflects back on his first love of 30 years ago. The film is set for release in theaters on February 15th.
This drama explores the inner man of the main character as he wonders why God allows such a thing to happen. The character asks the right questions and is looking for answers. Real answers.
This movie tries to put forth help for the hurting. And not only help for those who have been touched by a divorce, which are spouses, children, extended family, friends… virtually everybody, but help for those who have experienced tragedy in their life.
Why does God allow such pain to fracture families and rock people? What can you do about the pain? How do you get healing? How do you deal with bitterness? And anger?
And why didn't our main character marry his first love? "She was perfect for me," he cries!
The movie puts forth answers. Real answers. Truthful answers. And hopefully, helpful answers.
This motion picture is not a counseling session, but rather an entertainment vehicle that looks at a man who through his pain decided to be totally honest with his feelings, his emotional being, himself, and… with the Lord.
For background information on this film, see our Christian Film News article.
Volunteer reviewer needed for this movie — Request this assignment
See list of Relevant Issues—questions-and-answers.
---