MOVIE REVIEW
Fireproof
MPA Rating
:
for thematic material and some peril.
Reviewed by: Eric Bell
CONTRIBUTOR
Excellent!
Moviemaking Quality:
Primary Audience:
• Adults • Teens
Genre:
Christian Action Drama
Length:
Year of Release:
2008
USA Release:
September 26, 2008 (wide)
DVD release: January 27, 2009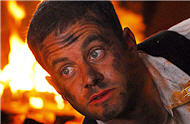 Relevant Issues
Is formalized marriage becoming obsolete? Answer
Many people are convinced that traditional marriages don't work and that this practice should be abandoned. What does the Bible say about marriage?
Christian Divorce and Remarriage—Under what conditions may Christians divorce and remarry? Answer
Marriage and divorce in the Bible
How can I tell if I'm getting addicted to pornography or sex? Answer
Featuring
Kirk Cameron, Erin Bethea, Alex Kendrick, Bailey Cave, Jason McLeod, Tommy McBride, Jim McBride,

See all »

Director
Alex Kendrick
Producer
Sherwood Pictures, Provident Films, Michael Catt, Jim McBride, David Nixon, Tracy Goode, Brad Weston
Distributor
Samuel Goldwyn Films
"Never leave your partner behind"
You are about to embark on a life changing experience when you view this incredible film. The quality of this story is simply amazing, especially in a spiritual and moral sense. And yet, it is edge-of-your-seat entertainment. You will engage intense drama, nail biting excitement, plot and subplot, romance and fear. One moment you will be laughing and the next trying not to cry. Kids will cheer, and adults will check their racing hearts. It is so real, so true, and will relate to everyone in many ways.
"Fireproof" is a story of true love, hope and salvation in a day when marriages are marked with infidelity, lack of commitment and selfishness. As we cheer fireman Captain Caleb Holt into burning buildings and runaway disasters, he and his wife, human relations director Catherine Holt, struggle with ordinary everyday marital issues. Bank accounts, dry cleaning, shopping and doing the dishes become small sparks that result in a devastating fire to their hearts and souls. While Caleb enjoys the role of community hero and somewhat of a savior, he finds it impossible to contain the inferno of his own marriage. Catherine sees no hero here, but rather finds him disappointing as husband, provider, and friend.
As the movie progresses, we continue to enjoy the excitement of Caleb's job as fire chief. Fires are fought, people are saved and heroes receive their accolades. But the fire at home rages on. As the couple conclude that their marriage is a mistake and that their personal lives offer so much more excitement than their married life, in steps Caleb's father. Himself a contributor to a damaged marriage in the past, he offers his son a challenge and a gift just prior to the divorce papers being signed. His simple request: would his son take a 40 day challenge before Caleb inks those fateful documents. As a favor to his dad, Caleb complies and begins a venture into what a true husband and hero really are. And on this journey, he finds an even greater Gift—and Love than he knew existed. As this self-centered hero becomes a selfless servant, his wife warms to the Gift Caleb has received and begins her own spiritual awakening.
The struggles that this marriage encounter are contemporary issues that hold some truth in all of our lives and might even hit a little too close to home. While sin is dealt with at face value, I appreciated the producers ability to demonstrate it without sucking us in. It might sound a little odd, but these sin issues were tastefully and respectfully addressed. I might want to relate to sin that someone else is dealing with, but I don't want to fall into it or have it become a struggle simply by watching a movie about it. It is painfully clear that Captain Holt struggles with many sin issues. His marriage suffers for it, and we cringe as we see him fall prey to it. But I did not feel that the movie itself was a carrier for this temptation. There was no need to close my eyes or feel ashamed to have my wife (or Jesus for that matter) sitting next to me.
In the same way, Catherine Holt is tempted and then seduced by a sin issue. Again, we are not drawn into it or given such gory details that we feel like we have become a part of it. I have yet to see the effectiveness of this thematic detail accomplished so well as in "Fireproof." It allows me to fully recommend adults viewing this film without shuddering as to how they will deal with it. In the end, I certainly did find myself praying against the prowling adversary that plagues us all (I Peter 5:8,9). Thank you Alex and Stephen Kendrick (producer/writers/actor) for taking such care in producing this film.
There, of course, will be critics. I'm sure the focus will be on the actors and their ability to turn in Oscar® winning performances. Here is what I can really appreciate about his movie. It balances on the story and the subtle but powerful message of hope in Christ. In these days of multi-million dollar actors and actresses, "Fireproof" does not rely on them to carry this story. With Kirk Cameron as the only recognized professional actor, the characters become humble bearers of this wonderful story. Undoubtedly, they will receive the praises of their Heavenly Father without need for the fickle and fleeting kudos of an Oscar's committee.
"Fireproof" has deep adult issues that it deals with. Having said that, I believe that it would be beneficial to take your teens. The adult issues are ones that you can talk through with them and learn some excellent life lessons that should not be ignored. "Fireproof" is a great opportunity to dialogue concerning sin issues and the good news of salvation. While your kids under 12 would enjoy the heart-pounding excitement of "Fireproof," you would need to evaluate whether they are mature enough to discuss divorce, marital conflict and sin issues.
For those of you that pick up every detail, watch for the unusual stunt double scene at the end of the story. If you can find the mystery actor, it will reveal the amazing care, authenticity and integrity that was put into the making of this movie.
If you want to see a movie that will tug at your heart and could possibly change your life and marriage, you must see this film. We loved it and are excited to tell our friends. In fact, we aren't waiting for the DVD. We're going to take as many people as we can and see it on the big screen again.
Thank you Sherwood films. You've done it again ("Flywheel," "Facing the Giants"). What an amazing movie. What a powerful tool. What an exciting ride.
See list of Relevant Issues—questions-and-answers.
Positive
Neutral
Sarah, age 23 (Canada)
Negative
Angelica, age 23 (USA)
Comments from young people
---
Several members of the ministry staff of Christian Answers Team Member Living Waters/Way of the Master went to a sneak preview of "Fireproof" (premiers September 26, 2008). The consensus was universal, this movie is a "slam-dunk."
Ray Comfort:
"'Fireproof' isn't just a wonderful, entertaining, heartwarming, life-changing tear-jerker. It presents a powerful and clear God-honoring gospel message that will make you want to shout for joy. Kirk Cameron's performance is stunning."
Emeal "E.Z." Zwayne, Executive Vice President, Living Waters:
"Simply put, 'Fireproof' is a life changer! It powerfully and creatively delivers a timely message to a generation that desperately needs it. It is one of the most inspirational movies I have every seen. I can hardly wait to take my friends to see it!"
Mark Spence, Dean of the School of Biblical Evangelism:
"I loved this movie for the sole reason that it was a breath of fresh air in the midst of the normal Hollywood smog. I've seldom witnessed audiences participating in a film as much as this one. There was crying, laughing, and cheering from the crowd. I have to say, that in an age of super budgeted feature films where most come and go in a couple of weeks after tanking, 'Fireproof' outshines and out classes them with this heartfelt homerun."
Visit fireproofthemovie.com to learn how you can support the movie in your community.
---