Kumail is a stand-up comedian working the clubs with his motley crew of fellow-comics when we first meet him in "The Big Sick." Kumail is in the middle of a routine when a woman in the audience lets out a "woohoo" to something he says. After the show, he sees Emily, the "heckler," and proceeds to inform her that heckling, whether positive or negative, is not-acceptable to comedians. She replies with something witty, and before long Emily's friend has left them alone to continue their flirtatious banter.
They end up back at Kumail's apartment, have sex (only once, though, as Emily informs Kumail she's not the type of girl to have sex twice on a first date), and then have an awkward laugh when Emily decides to call an Uber to take her home, not realizing that struggling comedians have to pay the bills, and Kumail pays his by driving for Uber.
The two very apparently like each other, but decide that neither are in a place to be dating, and so they decide it's best if they never see each other again. Naturally, they continue to see each other, each time reminding the other that they won't be doing this again.
Eventually, they stop pretending they only want casual flings with each other and start dating. This presents a major new obstacle, since Kumail is Pakistani Muslim, and his mother has been actively arranging meetings with suitable Pakistani Muslim women to find him a wife.
Kumail knows that his parents will disown him if he tells them he's dating a "white girl," but he also knows Emily might break up with him if she finds out that their relationship would cause such a division in his family. But, Emily discovers the secret he's tried to keep from her, and the two suffer a rather bitter break-up.
And that's just the set-up for one of the most nuanced, authentic, thought-provoking, emotionally pitch-perfect movies I've seen in a long time. "The Big Sick" is being billed as a romantic comedy, but, while there are elements of romance and lots of laughs, it would be incorrect to assume that rom-com is all you're getting from this movie. Once we get beyond the set-up, the movie really kicks into gear.
A short while after the break-up, Kumail receives a phone call from Emily's friend telling him that Emily is in the hospital and that she needs him to go sit with her and get her back to her place, once she's discharged. Things take a turn, and Kumail is forced to call Emily's out-of-state parents (who know all about the secretive relationship Kumail tried to keep and about the breakup) to let them know she's in a medically-induced coma.
Her parents arrive the next day, and from there, the movie follows Kumail's journey as he interacts with her parents, relates to his own family, and tries to discover who he really is and what he really wants, all while Emily's condition continues to deteriorate.
***SPOILER*** "The Big Sick" is based on the true-life story of Kumail and Emily. Kumail Nanjiani plays himself in the film, and co-wrote the script with his wife, Emily V. Gordon. If you know that much going into the film, you'll have a pretty good idea about how things turn out. Knowing those details, however, won't diminish the effect this movie has, but not knowing these details will certainly enhance the tension felt as the film works its way toward the final act. ***END SPOILER***
Nanjiani is great in the film. I can't help but wonder if it's easier to play yourself in a movie, or if having to relive certain experiences and yet authentically play them "for the first time" in a movie would make things more difficult, but he succeeds in never letting us feel like he's been there before. The scenes that stay firmly grounded in comedy are clearly his safe space and where he shines, but there are moments where his intensely dramatic scenes don't carry quite as much of a punch. That's not to say he isn't still good in them, though.
There is a moment when the beleaguered Kumail loses it and screams profanities at the fast-food drive-thru order screen when the teller can't figure out how to put four slices of cheese on a burger. That moment could have been gutting, considering what all Kumail had been going through, but it comes across as just a bit restrained. However, once he gets out of the car, continues his tirade, and then realizes what a fool he's making of himself, that restraint is welcomed, and it is perfect played.
I have seen Zoe Kazan a few times before, and, while I really liked her screen presence, I could never quite connect with her characters. People raved about the movie "Ruby Sparks," and while I admired a lot of it, I felt more voyeuristic and less involved. I wanted to connect with her character, but I never could.
In "The Big Sick," however, Zoe is simply sensational as Emily. Her ease and charm and vulnerability on-screen pretty much won me over instantly, and I could not get enough of her in this movie. Her character is one of the most genuinely likable people I've seen in movies in recent years, and I would watch Kumail and Emily sequels forever if they wanted to make them.
It's Ray Romano and Holly Hunter that steal the show as Emily's parents. Watching "The Big Sick," I was loosely reminded of "While You Were Sleeping." While the parent figures in that movie were funny and endearing, that movie played as a straight rom-com and provided little depth of character. This film provides great depth for both of the veteran actors, and while we are used to seeing Holly Hunter wow us in dramatic roles, her humor gets a chance to share equal billing in this one, and she more than holds her own against the comic-legend Romano. He finds surprising depth in his performance, and plays Emily's father as loving, yet wounded—likely self-inflicted. There is a scene where we crashes at Kumail's apartment and lets Kumail in on a family secret and then yells three times in the direction of the ceiling. Each yell gets progressively more intense, and we see in Romano's eyes a man who can't see forgiveness being offered because he can't forgive himself. It is still a while before Oscar nominations roll out, but I wouldn't be surprised to see some of these names get mentioned.
Language—The film is rated "R" for "language including some sexual references" and that's a pretty accurate assessment. This movie is for adults. Kumail is a stand-up comedian, and around other comedians during parts of the film, so we hear language and some off-color sexual humor from them on-stage. There is language from the main characters throughout the film, as well. It certainly is offensive, as we as Christians are called to let no unwholesome talk come out of our mouths.
Sex: The main characters engage in sex on their first date, although it is implied and not shown. Kumail also takes another woman to bed later in the film, but, again, the sex is implied. One character tells another that "you'll never know how much you truly love a woman until you cheat on her." Obviously, this is warped thinking and the other character says as much.
As Christians, we know that true love is sacrificial, and doesn't need to inflict hurt to then feel love. But, we also know that these are characters who do not profess belief in God, and whose lifestyles and viewpoints won't always align with ours.
I did appreciate, though, was how authentic everything and everyone felt. I personally know many people who I could assign to various characters in this film, and while these characters are flawed, they are real. And that's rare in movies.
"The Big Sick" also addresses (in a mostly light, comedic way) what it's like to be a Muslim in post-9/11 America, but also what it's like to grow up as a Muslim expected to live in the United States, but also still adhere to strict Muslim rules. Kumail faces racism, both casual and inadvertent, and also cruel and intentional. The movie handles these scenes well, while never feeling preachy in any way. Scenes like that can be played heavy-handedly, but the director and screenwriters hit those notes perfectly and naturally.

What is Islam? offers an overview for Christians, including recommended resources and information on topics related to Islams locale, history, holy book, meeting place, basic beliefs, thoughts of Jesus, means of salvation, religious growth, factions, misconceptions, outreach, and more…
---
What does the Qur'an say about Isa al Masih (Jesus)?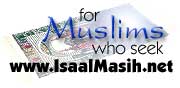 Muslims are seeking the truth by the thousands. Visit www.IsaalMasih.net and learn about Hazrat Isa, dreams and visions of the "Man in White", the holy message of the Al-Kitab, and more…
Kumail struggles with his Muslim faith, and hasn't prayed in years, despite going down to his parent's basement for "prayer-time," which actually consists of games on his phone or YouTube videos. He also finds confusing and constricting the notion of arranged marriage, when he lives in America and is surrounded by people doing things that feel best for them, and not necessarily for their parents.
While the film is centered on the Muslim faith, the same discussions could be had across the board with the nuances and challenges of growing up in other faiths as well. "The Big Sick" handles all of this with a grace and authenticity I wasn't expecting.
I honestly couldn't tell you what I expected going into this movie. The reviews were quite high, and it has been all the rage since it worked its charm on the Sundance crowd, initially. But each year it seems like movies can be critical darlings and yet still leave me scratching my head, wondering what I missed. I felt that way last month when I reviewed "The Beguiled." But not with this movie.
I loved this movie. I loved its charm and its humor and its heart. I laughed a lot, and I'd be lying if I said I didn't tear up once or twice. I know there will be Christians that will see this movie, if the size of the crowd in the theater today was any indication. If language and some sexual references are troubling to you, then don't see this movie. You can watch all the interviews the real Kumail and Emily are doing on the talk shows and hear about the story that way, without the language. But, if you do decide to see "The Big Sick," know what you're getting into, and prepare to see a movie the likes of which I haven't seen in a really long time.
Violence: None / Profanity: Heavy—"Oh Chr*st" (1), "J*sus" (1), "G*d d*mn" (2), OMG (14) / Vulgarity: Extreme—f-words (50+), "mother-f…" (1), s-words (15+), "cr*p" (2), "a**h*le" (3), various slang words for sex and genitals / Sex: Moderate to heavy / Nudity: None
See list of Relevant Issues—questions-and-answers.