An Interview with "Amazing Grace" Director Michael Apted
by Chris Monroe
Staff Writer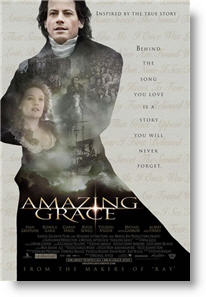 Relevant Issues
A single man or woman can help change the world. Read about some who did with faith and God's help…
Jesus Christ, Noah, Abraham, Joseph, Moses, and David
What are the consequences of racial prejudice and false beliefs about the origin of races? Answer

Get biblical answers to racial hot-topics. Where did the races come from? How did skin color come about? Why is it important to have a biblical foundation for such issues?
Were all of America's Founding Fathers racists, pro-slavery, and hypocrites? Answer
Also see our "Amazing Grace" review
Faith, Politics and Moviemaking
On Tuesday May 12, 1789 in the House of Commons, William Wilberforce addressed the leaders of England concerning his fierce opposition to the business and practice of slavery. In that speech, Wilberforce—in the midst of many who disagreed with him—is noted as saying:
…When I reflect, especially, that however averse any gentleman may now be, yet we shall all be of one opinion in the end; when I turn myself to these thoughts, I take courage—I determine to forget all my other fears, and I march forward with a firmer step in the full assurance that my cause will bear me out, and that I shall be able to justify upon the clearest principles, every resolution in my hand, the avowed end of which is, the total abolition of the slave trade…
Wilberforce had "full assurance" that his actions to abolish slavery would succeed, and as history shows us, he was right.
This "courtroom drama" movie "Amazing Grace," directed by Michael Apted ("Coal Miner's Daughter," "Gorillas in the Mist," "The World Is Not Enough") takes the audience on a political adventure of a man who not only immersed himself into a political saga lasting many, many years, but who was also, remarkably, a man of faith in Jesus Christ. This historical film not only acknowledges Wilberforce's faith, it also shows what he accomplished as a result of it. The interesting combination of his spiritual beliefs and his work in social reform may be likened to what James tells us in the New Testament in chapter 2 verses 17 and 18:
Even so faith, if it has no works, is dead, being by itself. But someone may well say, "You have faith, and I have works; show me your faith without the works, and I will show you my faith by my works."
Director Michael Apted openly admits, however, that he had political motivations in telling this story. Nevertheless, in the end, Apted's endeavor managed to fuse both the political and spiritual aspects of Wilberforce's life quite well.
For Apted personally, I asked him how he was affected by working on this project. He said:
I was very impressed with it all. I truly thought it delivered the things I was really looking for. I really did think it was heroic. I thought his [Wilberforce] commitment to it [the abolition of the slave trade] – and I take that he got a tremendous amount of that from his faith, from his religion – it gave him enormous strength and inner strength to survive what was a real buffeting. And also his expertise as a politician I liked…
Instead of eliminating the "religious" or Christian aspect of Wilberforce's life, Apted fully acknowledges it in the film. But Apted did not just shoot the script he was given.
Concerning the script, I asked Apted if there were any elements he felt he needed to take out or emphasize, particularly with the subject matter of politics and Christianity. He says:
…I felt that the script I had was too imbalanced away from politics. It just seemed such a dynamic event – the political event – which dramatized his religious beliefs so well, so exquisitely, in fact, that he didn't have to preach or sermonize. It was all through action. And it wasn't even doing less of it – it was more rebalancing it.
Apted acknowledges, it seems, that the "religious" part was outweighing the political aspect of Wilberforce's story. But what is also interesting is that instead of squelching the Christian aspect of Wilberforce's life, Apted embraces it as a motivation of Wilberforce within his political work.
But making changes to the script was not just a matter of fact for Apted. He had to work at it. Because of his desire to tell a political story, he had to persuade the higher-ups about his take on Wilberforce's life. Apted explains:
…I always wanted to find a kind of somewhat heroic story in politics and I couldn't find one in the contemporary world. Then this script arrived, which was pretty much a straight bio pic of Wilberforce – which probably veered more into his Christian side than it did the political side. So I thought if I could persuade them to put the politics right more in the front of it – to make that the engine of the story, and certainly deal with his belief system and his religion and all that – then this might be something that would really be good; for me to do it. So I did manage to persuade that, on all sorts of levels because I said it makes the character more interesting, because his political skills and political achievements are enormous, and we would move away from the idea of kind of making him an artifact, a kind of saint-like figure; it would give him real personality, real dimension.
While there may have been more scenes divulging Wilberforce's faith in Christ, it does not seem that this facet of his life was diminished in the film. In fact, because his faith is willingly acknowledged throughout, it only gives more impact to the social work he accomplished.
Besides Wilberforce's character in this film, there is also another fascinating character, namely John Newton (played exquisitely by Albert Finney). John Newton, as we know, was the captain of a slave ship and later repented of his heinous crimes in the slavery business. We know him best because of the song he wrote after his experience (and also the title of this movie) "Amazing Grace." Newton fulfills the mentor role for Wilberforce in this story on several occasions, and he, too tells of how Jesus saved him. Between Finney's acting, the scriptwriting and the direction, there are some truly touching moments here.
Another element of this production that fascinated me was that director Terence Malick (The New World, The Thin Red Line, Days of Heaven, Badlands) was one of the producers. Because of this, I asked Apted why Malick was involved. Apted says:
…I really can't answer it. It's not fair. I know he is a religious man. I think he was interested in that [Christian] side of him [Wilberforce]. Whether he [Malick] would have taken it the political route I did, I don't know… He [Malick] was always very supportive throughout the whole thing. I didn't really need it because I never had any serious troubles, but it was always there for me… And he always said it: "If you need help, I'm with you. I'm on your team." So that was a useful card to have, but I never had to play it. But he was like that. He was very warm and generous…
To clarify, Apted was asked directly if Malick was a "religious" man. Apted said,
"I think so. I don't think he's a member of the faith community as such, but I get the feeling that he's a very spiritual man – and a Christian."
For me, it was reminiscent of answers received from producer Amy Green (The New World) when talking to her about Malick's spiritual life.
But for Apted, he explains how religion was a part of his life while growing up. He says his dad was religious, but his mom was not, and adds, "so the family sort of went one way or the other." Apted's brother became a priest/pastor, but Apted says, "I never pursued that at all." One might say, however, that this film "Amazing Grace" is a way of preaching to thousands.
Regarding the success of this film Apted says:
…In three weeks I might be in despair that no one showed up at all to see it. Which is always the risk you run with this kind of stuff. It might hit a nerve; it might not hit a nerve. People might want to listen to this kind of film if you can get them in to listen to it. You never know.
It certainly is an inspiring film, and one that can encourage any Christian to live out their God-given convictions and make this world a better place.
See our film review page for more information on "Amazing Grace."
See list of Relevant Issues—questions-and-answers.
---