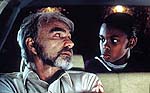 In present day Washington, D.C., 10-year-old Thaniel (Cordereau Dye) walks into the corner grocery store shortly after closing and accidentally shoots shop owner Eli Zeal (Burt Reynolds, "The Crew," "Boogie Nights") in a failed gang-related robbery attempt. Thaniel's single mother, D.C. taxi driver Tyree Battle (April Grace, "Finding Forrester"), finds her son just after the shooting standing in the rain holding the gun. Unwilling to face the consequences of her son's actions, she gathers him and wounded shopkeeper Eli and escapes to her hometown of Waterproof, Louisiana.
Tyree isn't accustomed to running back home whenever trouble strikes. In fact, she has been estranged for some fifteen years. Upon arrival in the worlds-apart sleepy Louisiana town where most people still pick cotton for a hard living, we meet Tyree's loving mother Viola (Ja'net DuBois, "I'm Gonna Get You Sucka," "Shaft"), family patriarch Sugar (Whitman Mayo, "Sanford and Son", "Boyz in the Hood"), slow-witted brother Natty (Orlando Jones, "Evolution", "Double Take") and hard-drinkin' Brother Big (the late Anthony Lee, "Liar, Liar").
In often-bizarre real life, actor Anthony Lee was shot by the L.A.P.D. Oct. 30, 2000 at a Halloween costume party after raising a toy gun. Lee knew intimately the world of gangs and drugs since he was a member of the feared Crips gang as a youth. It is in this type of environment in "Waterproof" that young Thaniel finds himself struttin' his stuff and acting tough when he shoots Eli. But taken from the rough streets of DC to the quiet of Louisiana, Thaniel finds himself unsure quite how to react. And his mom's family, not even aware of Thaniels existence before this surprise visit, isn't quite sure what to think of Thaniel. Tyree keeps talking about how he's a good kid though he proves otherwise. it's really a lack of any kind of moral training in his life, and a life without any knowledge of Christ. So when Thaniel sees the famous framed picture of a white Jesus hanging on the wall at his grandma's house, he says "who's the white dude?" it's then when Viola realizes her grandson has no knowledge of Christ. Before you know it, the whole family is at church whether they want to be there or not (including their hostage-houseguest Eli).
Eli as the sarcastic kidnapped loner isn't quite sure if he should be bitter for being shot and taken to a strange place, or grateful for the good treatment and new friendships he makes (namely that of Sugar and Viola). Tyree, wanting to run yet again from her past every day, is forced to come to grips with the covered up lies that destroyed her family two decades in the past. It is in this family secret that the real drama of the story lies and unravels, bringing Tyree to a final breakdown point where she comes to grips with her need for spiritual help through Jesus Christ.
Originally produced in 1999 by an independent film company, Canadian's Cloud Ten Pictures ("Left Behind—The Movie," "Apocalypse" and sequels) picked up "Waterproof" after it noticed the strong redemptive Christian themes of forgiveness, confession and salvation. (it's great to see Cloud Ten picking up projects like this that don't dwell on end-times themes.) Technically it is well done and on par with most other indie films. The acting is convincing and the story strong enough to captivate most willing to sit through some initially slow drama. Some of the speech flew right by me, not because it was fast, but rather because it is just difficult to understand. I didn't notice any profanity, but there is a racial slur (not used in an offensive manner). There is also the presence of alcohol and smoking (not glorified in any way).
I only have one beef with "Waterproof". Toward the conclusion of the film when Eli is finally tracked down by the police, he lies in a moment when the viewer is supposed to rejoice that he made the decision to not tell the truth. it's an arguable point perhaps, but I felt that he could have just as well explained the situation (though it would have taken a little more time). However, Eli, though a nice caring man we come to learn, is not a Christian and can't be expected to act on Christian biblical principles. I'm glad to see that his character was thoroughly enjoying the all-African American church he was taken to. I know I was surely enjoying the gospel music and unique preaching style unlike my Christian experience. Eli also showed great respect for the Bible as he read on the porch with Sugar in one scene.
There are some themes of prejudice and racial tension in the film that is well worth discussion. An excellent resource on this that we know of is One Blood: The Biblical Answer to Racism, as well as the "Racism, Ethnicity Issues and Christianity" portion of our Web site that contains several questions and answers.