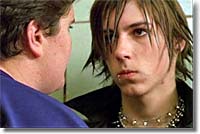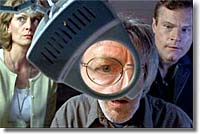 Relevant Issues
high school bullying
SUICIDE—What does the Bible say? Answer
If a Christian commits suicide, will they go to Heaven? Answer
hanging in the Bible
ghost seeking revenge
Satan and Satanism
pentagram
urban legend
good versus evil
entomologist, entomology—insects of the Bible
FEAR, Anxiety and Worry—What does the Bible say? Answer
undercover christian
family relationships
hallucinogens
God
How can we know there's a God? Answer
What if the cosmos is all that there is? Answer
If God made everything, who made God? Answer
Are you good enough to get to Heaven? Answer
"Watch your locker. Watch your back. Watch your soul."
A little bit of "Spy Kids", a whole-lot-a "CSI" and a dash of "Arachnophobia" converge in "Hangman's Curse", a film adaptation of author Frank Peretti's book The Veritas Project: Hangman's Curse.
Something is wrong at Rogers High School. Several students are close to death, and it is widely blamed on the curse of the "hangman," Able Fyre a former student who hung himself in school ten years ago. Able's ghost is now rumored to roam the halls and seek revenge for the years of torment he suffered as a student. As the curse continues to pick off members of the football team, the school calls in the Springfield family.
The family is part of the Veritas Project, a specially trained investigative team, and they immediately immerse themselves into the school community to help solve the mystery. As the mystery continues to plague the school, and threatens one of their own, the family works to reveal the "truth" behind the assumed spirited curse.

Given that the source of this film is Christian author Peretti's book, this suspense-laden film avoids many characteristics of a typical PG-13 film. Foul language, sexual undertones, the common taking of God's name in vain and overt violence are instead replaced with solid story telling. The film avoids preaching as well, and allows the audience to piece together good and evil as the film progresses.
There is a battle between three conflicting cliques (jocks, geeks, goth) and each finds themselves both victim and tormentor of common bullying. The film aptly displays the consequences of judging others by outward appearance and reminds the audience that appearances can be deceiving.
The primary message is clear, and as one character puts it: "Fooling around with spirits is a dangerous thing." The impressionable students become so fixated on the curse of the hangman, that it consumes their thoughts, and they are fooled by its artificial power.
As Christians, the Springfield's display their faith through subtle actions, especially as the kids, going against the norm, show compassion to the unloved of the school. Late in the film, one of the characters recites a Psalm for comfort in a time of need.
With likeable characters and a cast that delivers honest performances (Peretti appears as an over the top professor who is called in to assist the family), "Hangman's Curse" is engaging and suspenseful enough to hold any audience. Parents should note that with two suicides, one attempted suicide, one attempted murder and a ritual scene in a "witches den" (complete with chanting, candles and black cloaked students) some material may be inappropriate for younger children.
Violence: Mild | Profanity: None | Sex/Nudity: None
Volunteer reviewer needed for this movie
See list of Relevant Issues—questions-and-answers.