Megiddo: The Omega Code 2
also known as "La prophétie des ténèbres II," "Megiddo - Das Ende der Welt," "Megiddo: The Omega code 2 - tuomiopäivä," "Mejido"
Reviewed by: Lewis McNeely
CONTRIBUTOR
Better than Average
Moviemaking Quality:
Primary Audience:
Teens Adults
Genre:
Endtimes Thriller
Length:
2 hr.
Year of Release:
2001
USA Release:
September 21, 2001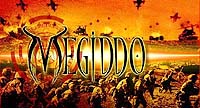 Relevant Issues
Megiddo in the Bible
other Christian end-times films
| | |
| --- | --- |
| Featuring: | Michael York, Diane Venora, Michael Biehn, Noah Huntley, Gavin Fink, Udo Kier, Gil Colon, R. Lee Ermey, Franco Nero, Elisa Scialpi, David Hendison |
| Director: | Brian Trenchard Smith |
| Producer: | Matthew Crouch |
| Distributor: | Gener8Xion Entertainment |
Wow! Chills, spills and thrills! All this in a movie minus profanity and sexual immorality!
When I heard TBN was planning a sequel to the original "Omega Code" offering, I cringed. Sorry folks, though the "Code" was light-years ahead of virtually every Christian film preceding it, in my opinion, it was a stinker. don't misunderstand, I'm a strong proponent of Christian-based entertainment, but if a Christian owns a restaurant that sells Spam second's as entrées—sorry but I "no eatee" there. But guess what? This movie was first rate. The effects were good, the acting prime and the story superb. It has a distinctive feel of its own that supercedes the cheesy, low-budget texture that's common in this genre.
"Megiddo" is the chronological telling of Stone Alexander (Michael York), the anti-Christ's life story. It begins with his childhood, follows into adulthood and finally into his role as head of a one world government. It has a logical flow of events and a smooth plot, though some parts were definitely unrealistic. For instance: President of U.S. riding in an attacking helicopter during a military operation; Prime Minister of China in a tank during a ground attack? I don't think so (except maybe in "Independence Day")
Biblically, the film appears sound, allowing enough speculation to not offend anyone's end-times interpretations.
This film is fortunate to not have received an "R" rating due to the dark and violent nature of some scenes. However, contextually, such scenes were appropriate demonstrating the evil nature of the antagonist. I strongly recommend children under 12 not attend, especially if easily frightened. Also, though enjoying the film in a greater context than the first "Omega Code", I had the suspicion that the main character, Stone Alexander, seemed more in depth to me than actually portrayed in this film, due to having seen his character in the original. Having said that, there appeared to be no real connection to the original film, meaning this one will be enjoyable even to those who have not viewed the first.
Overall, a great film with an even better conclusion.
---