MOVIE REVIEW
Left Behind: World at War
MPA Rating
:
for violence.
Reviewed by: Douglas Downs
STAFF WRITER
Good
Moviemaking Quality:
Primary Audience:
Adults Teens
Genre:
Christian End-Times Drama Adaptation
Length:
1 hr. 35 min.
Year of Release:
2005
USA Release:
October 21, 2005 (wide simultaneous showings in churches)
DVD: October 25, 2005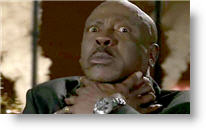 Relevant Issues
Read what the bible has to say about The Return of Christ:
Matthew 24:27, 29-31, 34, 36-44
John 14:1-4
Acts 1:11
I Corinthians 15:51-57
I Thessalonians 4:13-18
I Timothy 4:1-3
II Timothy 3:1-5, 4:1-8
Titus 2:13
II Peter 3:3-13
and the books of Daniel and Revelation

Read about Jesus Christ and the rapture, as explained in God's Story—from Creation to Eternity—GO
---
See our reviews of previous "Left Behind" films:
Left Behind: The Movie
Left Behind II: Tribulation Force
| | |
| --- | --- |
| Featuring | Louis Gossett Jr., Kirk Cameron, Brad Johnson, Chelsea Noble, Christopher Bondy, Krista Bridges, Leslie Carlson, Laura Catalano, Neil Crone, Gordon Currie, Tim Eddis, David Eisner, Richard Fitzpatrick, Colin Fox, David Macniven, Lubomir Mykytiuk, Louis Negin, Arnold Pinnock, Sandi Ross, Charles Martin Smith, Jessica Steen, Janaya Stephens, Jeff Teravainen |
| Director | Craig R. Baxley |
| Producer | Cloud Ten Pictures |
| Distributor | Sony Pictures |
It has been three years since the release of the film "Left Behind II". This trilogy of movies is based on the popular series of books by Jerry Jenkins and Tim LaHaye. Many readers have enjoyed this fictional look into the future.
The first thing that I would like to say about the new release is that the production quality is nothing short of first class. You will notice a big improvement in the cinematography and special effects. Yes, the Junior Class release is better than the Freshman and Sophomore effort combined. The movie is directed by Craig R. Baxely. Craig is known for his work with many of the Stephen King films, the television series "Kingdom Hospital", The A-Team and several other films.
The acting is also first class. President Gerald Fitzhugh is played by Louis Gosset, Jr. There is nothing like the combination of good acting, good direction and a good story to bring life to a film. Jessica Steen ("NCIS", "Armageddon", "Earth 2") and Charles Martin Smith ("American Graffiti", "The Untouchables") both add to this excellent cast. I only had two laments in regard to the acting. The first was that Clarence Gilyard Jr. was not able to return as Bruce Barnes and that Kirk Cameron has a much smaller role.
Left Behind: World at War picks up 18 months after the close of the first sequel. The anti-christ has achieved world peace, and nearly all the leaders of the world are behind his leadership. The film opens with President Fitzhugh beginning to have some doubts about his decision. The plot begins to unfold a planned strike against the United States. There is also a growing lethal epidemic among believers. The conflict between those that profess Christianity and the followers of Nicolae Carpathia continues to increase.
The film is a reflection of Jenkins and LaHaye's worldview and their interpretation of prophetic events. I know that some disagree with their Biblical interpretation. I must confess that I did not agree with all their views of the future either. I do believe that the Bible will have strong relevance during the Tribulation period. I also liked Buck's (Kirk Cameron) clear presentation of the Gospel. It is the BEST part of the movie. I didn't like the Hollywood presentation of the anti-Christ or the scenes that sensationalized a possible Christian insurgency and strong individual vigilantism.
I think that most Christians will enjoy the effort. I am not sure that the film will be effective on its own as an evangelistic tool. I'm afraid that it might create more questions or confusion. I do highly recommend the new film from World Wide Pictures (Billy Graham Association) "Last Flight Out" as an excellent evangelistic alternative.
Profanity: None / Sex/Nudity: None / Violence: Heavier than usual for a Christian film, but considerably lighter than many PG-13 movies
See list of Relevant Issues—questions-and-answers.
Positive
Neutral
Negative
Comments from young people
---