MOVIE REVIEW
Ben-Hur: A Tale of the Christ
MPA Rating
:
Reviewed by: Kevin J. Burk
CONTRIBUTOR
Excellent!
Moviemaking Quality:
Primary Audience:
10 to Adult
Genre:
Drama
Length:
3 hr. 32 min.
Year of Release:
1959
USA Release:
November 18, 1959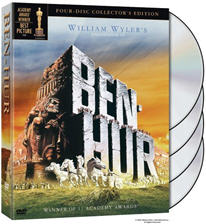 Relevant Issues

Archaeology—Have any burial sites been found for the people involved in Christ's life and death? Answer
Is Jesus Christ a man, or is he God? Answer
If Jesus is God, how could he die? If Jesus died on the cross, then how can he be alive today? Answer
Was Jesus Christ God, manifest in human form? Answer
Is Jesus Christ really God? Answer
If Jesus was the Son of God, why did He call Himself the Son of Man? Answer
TRINITY—How can one God be three persons? Answer
JESUS' CHARACTER—Is Christ's character consistent with his high claims? Answer
Featuring
Charlton Heston … Judah Ben-Hur
Jack Hawkins … Quintus Arrius
Haya Harareet … Esther
Stephen Boyd … Messala
Hugh Griffith … Sheik Ilderim
Martha Scott … Miriam
Cathy O'Donnell … Tirzah
Sam Jaffe … Simonides
Finlay Currie … Balthasar / Narrator
Frank Thring … Pontius Pilate
Terence Longdon … Drusus
George Relph … Tiberius Caesar
André Morell … Sextus

Director
William Wyler—"Roman Holiday" (1953), "The Best Years of Our Lives" (1946)
Producer
Sam Zimbalist
Sol C. Siegel
Joseph Vogel
Metro-Goldwyn-Mayer (MGM)
Distributor
Metro-Goldwyn-Mayer (MGM)
Also see: "Ben-Hur" (2016)
"Ben-Hur" has recently been ranked as one of the one hundred greatest films of all time, and with good reason. Forty years later it remains one of the classics of cinema, as well as a witness for the redeeming power of Jesus Christ.
Based on the famous novel, the film tells the story of Judah Ben-Hur, a wealthy Jewish prince living during the time of Christ who is wrongly accused of murdering the Roman governor. [The governor, however, is not killed during the incident of the falling tiles. He recovers. This is important because it means Judah is sentenced to die in the galleys not only for an accident, but for an accident which does not even result in permanent injury.] Judah, his mother and daughter are imprisoned for the crime by Judah's childhood friend, the Roman Masala. Judah is sentenced to be a galley slave and swears revenge on Masala. As Judah works to exact his revenge, a young carpenter begins his ministry. The film's story dovetails into a climatic confrontation between Judah and Masala, until finally Judah learns that love triumphs over hate, becoming a follower of Jesus, the crucified carpenter.
This film is one of the great G-rated biblical epics that Hollywood used to produce, and I highly recommend it. A few scenes of violence may be intense for young children, but little of it is graphic. Overall, the film's message of peace through salvation in Christ makes this a wonderful film and a testimony to non-believers.

DVD release—Collector's Edition (2005)
On September 13, 2005, Warner Brothers released a four-disc Collector's Edition of this film which won 11 Academy Awards. The film has been reformatted and includes new features such as commentary by Charlton Heston, documentaries on the making of the film, and a DVD of the 1925 silent version, as well as a Bible Study Guide. This small booklet is titled Ben-Hur: An Epic Bible Study Into the Transformational Power of God (authors: Rev. Drs. Robert H. Schuller and Robert A. Schuller). Specific DVD features include:
Subtitles: English, Spanish, French
Available Audio Tracks: English (Dolby Digital 5.1), French (Dolby Digital 5.1)
Commentary by film historian T. Gene Hatcher with scene-specific comments from Charlton Heston
New digital transfer from restored 65MM elements
Music-only track
The 1925 feature-length silent version of Ben-Hur with a stereophonic orchestral score by composer Carl Davis
2005 documentary: Ben-Hur: The Epic That Changed Cinema—Current filmmakers such as Ridley Scott and George Lucas reflect on the importance and influence of the film
1994 documentary: Ben-Hur: The Making of an Epic hosted by Christopher Plummer
Directed by William Wyler—1986 Emmy Award? -nominated documentary featuring the last interview with Wyler before his death
Ben-Hur: A Journey Through Pictures—New audiovisual recreation of the film via stills, storyboards, sketches, music and dialogue
Screen Tests: Leslie Nielsen and Cesare Danova, Leslie Nielsen and Yale Wexler, George Baker and William Russel
Highlights from the 4/4/1960 Academy Awards ceremony
Vintage newsreels gallery
Theatrical trailer gallery
See list of Relevant Issues—questions-and-answers.
Positive
---