MOVIE REVIEW
Saved!
also known as "¡Salvados!," "¡Salvada!," "Galera do Mal," "Kurtar beni!," "Saved! - Die Highschool-Missionarinnen," "Sothikame!"
Reviewed by: Jeremy Landes
CONTRIBUTOR
Extremely Offensive
Moviemaking Quality:
Primary Audience:
Teens
Genre:
Comedy
Length:
1 hr. 32 min.
Year of Release:
2004
USA Release:
January 21, 2004 (festival)
May 28, 2004 (limited)
DVD: October 5, 2004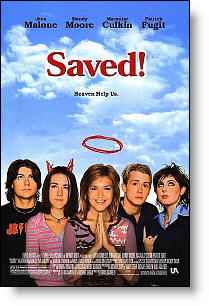 Relevant Issues
HYPOCRISY—Judging from all the hypocrisy in the church, why should anyone want to be a Christian? Answer
THE NEW TOLERANCE—It's politically correct, but does it hold danger for followers of Christ? Is love the same thing as tolerance? Answer
ALL RELIGION THE SAME?—The director/writer of SAVED! says: "They can't all be wrong, and they can't all be right." Are all religions basically the same? Is there any valid reason that Christians should insist that one must believe in Christ to be saved? Answer
WHERE'S THE TRUTH?—With so many cults and denominations, how can I decide which are true and which are false? Answer
Teenagers
Sex
How can I deal with temptations? Answer
Should I save sex for marriage? Answer
What are the consequences of sexual immorality? Answer
How can I tell if I'm getting addicted to sex or pornography? Answer
Homosexuality
What's wrong with being gay? Answer
What should be the attitude of the church toward homosexuals and homosexuality? Answer
What about gays needs to change? (It may not be what you think.) Answer
Can a gay or lesbian person go to heaven? Answer
Featuring:
Mandy Moore … Hilary Faye
Macaulay Culkin … Roland
Jena Malone … Mary
Patrick Fugit … Patrick
Mary-Louise Parker … Lillian


See all »

Director:
Brian Dannelly
Producer:
United Artists, Single Cell Pictures, Infinity Media, James Forsyth Casting Inc., Red Bull Productions,

See all »

Distributor:

United Artists Releasing, a subsidiary of Metro-Goldwyn-Mayer (MGM)
Brian Dannelly's film, "Saved!" is a comedy-drama centered around the fictional Eagle Mountain Christian High School, where Jesus' name is spouted as if He's a popular soft drink—complete with advertising buttons ready to be pinned onto anyone's backpack and make them eternally popular. The mostly white students live within wealthy suburbs, venturing into the city only long enough to picket abortion clinics.
Audience members are asked to believe this is a community where one might win the "Christian Home Decorating Award of the Year" to wild acclaim. During high school assemblies, the one teen who rebelliously mocks her Christian classmates is targeted by a spotlight, as the school principal asks if anyone wants to get saved. "Getting saved" in "Saved!" is a flip decision that a three-year-old who knows no better may make. True repentance for sin, freedom from its bonds, and laying down one's life for your friends are none to be seen here.
In fact, based on this movie, one could easily get the idea that calling yourself an evangelical Christian puts you in the categories of judgmental, rude, violent, and stupid. It comes as no surprise that the credits give special thanks to George H. Smith for his book, Atheism: The Case Against God.
FAQ: How can we know there is a God? Answer
The formulaic plot of "Saved!" deals primarily with Mary (Jena Malone), a self-identified Christian whose boyfriend, Dean (Chad Faust), announces, "I think I'm gay!" Moments later, Mary nearly drowns, and she believes Jesus appears, telling her to help Dean. She interprets the "vision" to mean that Jesus wants her to become sexually involved with Dean. Soon after, she is pregnant and furious with God for betraying her. We watch Mary reject God while looking at a cross and trying out several profane words for the first time, defying God to prove His existence to her.
Meanwhile, Dean's Christian parents ship him off to a care center after finding his pornography, hoping to keep their son away from a homosexual lifestyle. Dean is shown having a great time at the center, where he shares a room with another teen who is there for the same reason. Dean is shown lusting after this boy, and they are soon sweethearts at the prom who are proud of their homosexual choices.
When Mary tells her friends where Dean is, she swears them to secrecy. Her best friend, Hilary Faye (Mandy Moore) promises to keep quiet, then she reveals the secret to their school via a prayer meeting flyer. Through this plotline and some other scenes, Christians are depicted as notorious gossips.
The principal of the Christian school, Pastor Skip (Martin Donovan), is married to a woman who left him years ago to serve as a missionary in South America. He uses "hip" jargon, ridiculously asking students, "Are you ready to get your Jesus on?" Skip performs round-offs, and he rejoices in Christian music that sounds just like mainstream rock, so the gospel message can be subtly slipped in. Pastor Skip begins an affair with Mary's mother, who also professes to be a believer. Through this plot point, Christians, especially leaders, are depicted as liars, adulterers, and hypocrites.
Christians are portrayed as violent and devious. Hilary Faye and Mary practice shooting handguns, in order to protect their bodies from rapists, at the "Eye for an Eye Shooting Range"—a location presumably designed to welcome Christians. Later in the film, Hilary Faye and her friends forcibly tackle Mary and attempt to exorcise demons from her. Failing that, Hilary Faye throws a Bible forcefully at Mary, hitting her on the head. Hilary Faye later frames Mary and her friends by painting lewd graffiti around the school, which leads to their expulsion.
Hypocrisy
Is there hypocrisy among Christians? Yes, far too much. and there always has been. But it's certainly not being condoned. Is HYPOCRISY a valid argument against following Christ? Answer
As Hilary Faye, actress Mandy Moore is given the unenviable task of portraying evil incarnate, and her acting lacks subtlety or depth. The only explanation given for her viciousness is the fact that she was once very fat. They may as well have cast the Wicked Witch of the West to play the role.
Besides Mary, the other heroes of "Saved!" include Roland (Macaulay Culkin), Hilary Faye's handicapped brother who has rejected Christ, and Cassandra (Eva Amurri), a rebellious Jewish teen who delights in mocking and abusing the Christian kids. In perhaps the film's most offensive scene, Cassandra pretends to speak in tongues at a school assembly, while she exposes her body to the school. Hilary Faye finally steps in and utters the lewd phrase Cassandra had been actually communicating under the guise of pig Latin.
While the film's message is being preached during a stand-off at the prom, the character Dean, home from rehabilitation, crashes the dance with his gay lover. Dean says emphatically, "I know in my heart that Jesus still loves me!" Young men and women may see "Saved!" and take away a message that Jesus accepts them despite whatever sinful actions they may choose. To read more about what the Bible says about this, click here.
Despite the fact that "Saved!" takes a lot of farcical low blows at Christians (too many to name in this review), this comedy merits very few laughs (besides its own cliché-ridden and predictable plotline) and hammers home a saccharine message of universal tolerance and goodwill that writers of "Barney" might have discarded as too obvious and trite.
As a follower of Jesus, I regret having seen "Saved!" in the same way one might regret visiting a classroom of ninth graders who've been programmed to mock you. I know that the movie was not made with a Christ-centered audience in mind; rather, it appeals to Americans who, according to most polls, believe a God exists but can't agree on whether He has called them to live according to any standard. The heroes of the film (who challenge their hypocritical principal, parents, and classmates) acknowledge God with their lips, but they live according to their own desires and moral standards, not Christ's.
Over the last few months, there has been a new wave of worldwide interest in Christ because of Mel Gibson's "The Passion…" "Saved!" feels like a backlash—a picture of how many people in Hollywood view evangelical believers. At least one of the plot points may convict believers—those who choose to spread gossip via prayer requests. Don't count on much more of "Saved!" to point out your sin—its characters are mostly too broad to believe or identify with.
Believers who choose to respond with anger or hatred toward "Saved!" may inadvertently mimic the judgmental cardboard cutout "Christian" characters presented in the film, and Christ's name will continue being tainted. If believers choose to combat the ideas in "Saved!" with the following Scripture in mind,
"Always be ready to give a defense to everyone who asks you a reason for the hope that is in you, with meekness and fear." (1 Peter 3:15)
…a watching world may note the contrast.
See list of Relevant Issues—questions-and-answers.
Think about it
Judging from all the HYPOCRISY in the church, why should anyone want to be a Christian? Answer
THE NEW TOLERANCE—It's politically correct, but does it hold danger for followers of Christ? Is love the same thing as tolerance? Answer
The director/writer of SAVED! says: "They can't all be wrong, and they can't all be right." Are all religions basically the same? Is there any valid reason that Christians should insist that one must believe in Christ to be saved? Answer
With so many cults and denominations, how can I decide which are true and which are false? Answer
---
---
An interview with the producers and cast
Producers Sandy Stern and Michael Stipe were sent the script for "Saved!" in 1999 after the success of "Being John Malkovich" prompted a flood of scripts to their company, Single Cell Pictures. Stern said,
"When I read "Saved!", it was so of the moment, so topical, had something to say, and it was funny. It had all the hallmarks of a traditional high school movie, but spun in an entirely unique way."
Producer Stipe agreed:
"I thought it was one of the funnier and more absolutely audacious, subversive scripts I had seen in some time," he says. "I just fell in love with the characters and the story immediately."
Stern admits that the "Saved!" storyline also held a particular personal appeal.
"There has always been a part of me that's an arrested adolescent," he says. "High school is a time we all look back on—every single one of us—and for so many of us, those were some of the worst years of our lives. Part of "Saved!" is about being the outsider in high school, and unfortunately, I was able to relate to that. I think many people can."
Writer/director Brian Dannelly (who co-wrote the script with Michael Urban while they were enrolled at the American Film Institute) says "Saved!" came about as a result of his own diverse background.
"As a kid I went to Catholic elementary school, Christian high school, and a Jewish summer camp," he says. "The biggest lesson I learned from my experiences became a line in the script: 'They can't all be wrong, and they can't all be right.' I wanted to write a movie based on that. I wanted to write a movie that was grounded with the iconography of a mainstream teen movie yet incorporated concepts and ideas you would never see in those kinds of movies—an accessible film with an independent spirit."
FAQ: The director/writer of "SAVED!" says: "They can't all be wrong, and they can't all be right." Are all religions basically the same? Answer
Recalling the strict rules of his school years, Dannelly says,
"In my high school, we weren't allowed to dance," he says. "Everybody had to be at least 6 inches away from the opposite sex at all times. We had record burnings, and the entertainment at my senior prom was a puppet show—it wasn't very exciting."
Co-writer Urban had similar experiences with his "fundamentalist" upbringing.
"I grew up in a traditional Baptist home in the South," he says. "Where I went to college in Tallahassee, Florida, I regularly saw people who lived in this metaphysical world with punishments and demons and things I had a hard time understanding. Sometimes things are twisted and exploited in the name of religion or God. I wanted to explore that."
To get into their characters, prior to the beginning of principal photography, Dannelly and a number of the principal cast members were taken to a "Salvation Rally" in Anaheim Stadium, California. In British Columbia the whole cast also attended another teen Christian rally as part of their research.
"I wanted to make sure the cast understood the dynamics of what the Christian community fondly calls 'Jesus freaks'."
Controversy
According to the producers, the script's look at "fundamentalist" Christianity eventually caused the production to lose several locations during production—and a rock band. The owner of the home that was to serve as Mary's house "decided at the last minute there would be no room at the inn" after hearing about the comedic aspects of the story. As a Christian, he claimed it would be inappropriate. Similarly, a Lutheran church originally slated as a location "backed out" of the deal after perusing the script. A United church, however, happily offered to host the production. Also, a well-known Christian rock band had agreed to perform in the film.
"The script had been approved by the band members and their management, but at the eleventh hour the band's label pulled the plug, fearful Christian fans might be offended."
In discussing the potential controversy raised by "Saved!"'s subject matter, the cast and filmmakers claim that…
"…the main message of the film is one of love, one of inclusion and acceptance of all religions and beliefs."

"The film does not criticize Christians, religion, or faith. The film speaks out against those who are intolerant and their inability to open their hearts and minds to others' way of thinking—or at least their inability to realize everyone on Earth will never believe in exactly the same things."
FAQ: "Saved!" promotes the new definition of "TOLERANCE" of all beliefs. This is politically correct, but does it hold danger for followers of Christ? Is love the same thing as tolerance? Answer
Jena Malone says there will very likely be some debate about "Saved!"'s subject matter, but feels the film actually promotes religion, when it's practiced with tolerance.
"The film is absolutely pro-faith," she says. "It's about wanting to believe in something and the idea that belief and love can be in many different forms. It's not a matter of grouping it into clean neat piles, but really understanding the chaos, understanding the debris on the side and knowing it's all part of the same thing."
FAQ: Are all religions really basically the same, as the director and cast suggest? Answer
Co-star Eva Amurri feels that religion needs to be adapted to modern life and needs.
"I think no matter what religion you are, you have to learn to adapt to the world today," she says. "It's about how you take these morals imposed on you by certain religions and transpose that onto what you're experiencing in everyday life."
FAQ: Does Christianity need to develop a NEW gospel for today's world? Answer
Mandy Moore says she believes the film is sending out "a very positive message." "Obviously some things are exaggerated for comedic effect," she says, "but the message of this film is not about mocking Christians. It isn't anti-anything at all. It is about discovering who you are and what you believe in. It's about tolerance, acceptance and diversity.
"I'm really happy to be part of a film that's going to make people think on so many different levels," Moore continues. "I think it's pretty inspirational to see this character, a Christian who tests her faith and finally decides to come back to it, because it's what she believes in. But Hilary Faye also shows how intense beliefs can become really extreme, how you can find yourself becoming a really judgmental and cold person because of it. I think "Saved!" shows both the good and bad aspects of having faith."
Producer Stern says, "We sent her the script, and seven days later she committed to the movie. I have never had an actor come onto a project so easily and joyously as Mandy. It was incredible." Moore reports that when she read the script "I was just on the floor in hysterics laughing—and I wanted to be a part of it."
Macaulay Culkin reports, "I knew coming into this that some people might not like it, but I didn't make the film to be controversial. I think we're making a wonderful film with a very important message. Just because it takes place in a Christian high school and concerns Christianity, some might not agree with it for one reason or another. But I agree with what the film says, so I hope people just walk in with an open mind and take it for what it is."
"Before you make up your mind how you feel about something, you should be able to challenge it—religion, politics, or whatever," says Heather Matarazzo. "When speaking about something, it shouldn't just be empty words with feeling behind them. It should be educated words with feeling behind them. That is what we're trying to convey. I hope everyone likes it, including Christians."
Producer and REM singer Michael Stipe, who openly describes himself as a "queer artist" ("Time", 2001), is adamant about the film's positive stance on religion.
"I don't think this film in any way mocks Christianity," he says. "I come from a very religious family, and I would not insult them or the people I grew up with by working so hard on something I thought was insulting. This film presents things the way they really are. Teenage girls get pregnant, people figure out they're gay, and sometimes those things happen in places where they are least expected."

"My personal belief is that Christianity and spirituality in general need a little bit of a push into the 21st century, particularly from the point of view of a teenager," he continues. "That is what this movie captures in such a brilliant way. It is subversive, but it is sweetly subversive. I don't think we are stepping on anyone's toes."

"I think anyone who has been an outsider will relate to the film," says Dannelly. "Anyone who has ever had their faith tested will relate to this film. Anyone who has ever been in high school will relate to this film. And I would like to think our film is slightly more intelligent than your standard teen movie. I think people will appreciate it. "People who are secure in their faith aren't going to be worried about "Saved!" one bit. It's like "My Big Fat Greek Wedding,"" he continues. "I don't think Greek people were up in arms because it dealt with Greek stereotypes. People who are strong in their faith will not be afraid of this movie."
About the film's design
One of the most notable creations made for the film is the giant 25-foot tall billboard of Jesus wearing running shoes looming over the parking lot outside the school—it's a billboard being painted in the film's opening by "Christian Jewels" Jena Malone and Mandy Moore. Following Dannelly's idea of using contemporary artwork influenced by Nike ads, Devenyi says they decided to go for something "cool that kids could identify with. We made a Jesus wearing running shoes, drawn in a fashion familiar to anyone who picks up a teen magazine today."
Production designer Devenyi explains how color was used to introduce some of the story's standout characters.
"We introduced color during some of the flashbacks of Mary's earlier life," he says. "We also introduced color by means of Eva Amurri's character, Cassandra, the girl who drives a wild purple car and overturns the apple cart of the Christian structure in which she's trapped. The color red is also kept out of the picture until Mary shows up wearing a red dress at the prom."
The modern high school, which provides the focal point for much of the film's action, was chosen for its unusual design as well as its proliferation of windows and skylights. The filmmakers found the Clayton Heights Secondary School in the suburb of South Surrey to have exactly the look needed for the film's American Eagle Christian High.
"We wanted a school that was very atypical, that had never been seen on film before," adds Devenyi. "The design for this school was very cubist, almost like a German Expressionist film set, with a lot of angles, strange lines, and broken up imagery. It gave us many great angles to shoot from inherent in the architecture. Ultimately, it also gave us a nice representation of the fractured look we wanted as the Christian world breaks down for the characters."
About the filmmakers
BRIAN DANNELLY (Director/Writer) was born in Wurtzburg, Germany. At age 11 his family relocated to a suburb of Baltimore, Maryland. After Catholic elementary school, Jewish summer camp, and Baptist high school, Dannelly eventually graduated Magna Cum Laude from the University of Maryland Baltimore County (Visual Arts), then became a directing fellow at the American Film Institute, graduating from their directing program in 1999. Dannelly met writing partner Michael Urban at AFI and they wrote "Saved!", Dannelly's first feature film.
MICHAEL STIPE (Producer) is the singer/songwriter of the band R.E.M. (formed 1979), and has two film production companies: Single Cell Pictures, which he started in 1995 with Sandy Stern, and his other production company, C-Hundred Film Corp, formed in 1987. Stipe's production credits include "Being John Malkovich," "American Movie," "Velvet Goldmine," "Spring Forward," "Girls Town," "Our Song," and "Stranger Inside."
SANDY STERN (Producer), whose first feature was the teen film "Pump Up the Volume," has produced many other films for both film and television. He has also produced "Red Hot" for HBO, "Equinox," and "Freak City" for Showtime. Stern partnered with Michael Stipe in 1995 and their productions together include "Being John Malkovich," "Velvet Goldmine," and "Thirteen Conversations About One Thing."
---