MOVIE REVIEW
Saving God
Reviewed by: Brian C. Johnson
CONTRIBUTOR
Better than Average
Moviemaking Quality:
Primary Audience:
Teens, Adults
Genre:
Christian, Drama
Length:
1 hr. 30 min.
Year of Release:
2008
USA Release:
Direct release to churches for public showings: October 10, 2008
Retail DVD release: October 14, 2008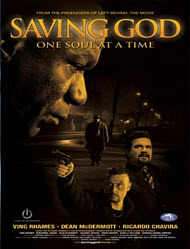 Relevant Issues
How can I be and feel forgiven? Answer
If God forgives me every time I ask, why do I still feel so guilty? Answer
God
How can we know there's a God? Answer
What if the cosmos is all that there is? Answer
If God made everything, who made God? Answer
What does God say? Answer
Is Jesus Christ God? Answer
Why does God allow innocent people to suffer? Answer
Are you good enough to get to Heaven? Answer
Change the world
A single man or woman can help change the world. Read about some who did with faith and God's help…
Jesus Christ, Noah, Abraham, Joseph, Moses, and David
Bible and church
How do we know the Bible is true? Answer
Why should Christians go to church? How important is it? Answer
Featuring:
Ving Rhames
Dean McDermott
Ricardo Chavira
Dwain Murphy
Genelle Williams
Kate Todd, Kim Roberts, Ted Ludzik, Joanne Boland, K.C. Collins, Richard Leacock, Joe Bostick, Kathy Maloney, Egidio Tari, Marnie Robinson, Balford Gordon, Christopher Marren
Director:
Duane Crichton
Producer:
Clear Entertainment, Cloud Ten Pictures, Sherri Bennett, Tim Cherry, Emanuel "Manny" Danelon, Philip Mellows, Pazz Neglia, Domenic Serafino, Wayne Thompson, André van Heerden
Distributor:
Cloud Ten Pictures
"Who will save God for the souls who have lost Him?"
A common problem with Christian movies is they are so predictable—"Saving God" is no different. Cheesy, poorly acted, and boring to the nth degree, this film follows the formula to a tee. The only way it breaks convention is that this film has a predominantly African American cast—a community that is largely ignored by Christian media. Unfortunately, this innovation is incredibly played out. The story line is the same—drug dealers, violence, teen pregnancy, urban blight, a culture of fatherlessness, and the downward spiral of crime and poverty [factors which appear all too often in popular media featuring people of color].
The plot centers around Armstong Cane, played by Ving Rhames ("Mission Impossible 1-3"), who has just been released from federal prison where he spent the last fifteen years for murdering his best friend, in a fit of rage. Cane is the son of a pastor, and he is just beginning to walk in his father's footsteps. He tries to rebuild the last remnants of his father's dilapidated congregation. In this rundown neighborhood, everyone remembers Cane's past and few want to believe his conversion, even less want to forgive him for his failure. That is, until he meets, befriends, and mentors a troubled teen named Norris Johns (Dwain Murphy—"How She Move"), who is peddling drugs outside of the church. Norris wants out of the thug life, but his attempts to change are thwarted by Blaze, the druglord Norris works for. In the end, Cane must make several important decisions that leave lives in the balance.
Fans of Rhames' body of work will probably find the role of preacher as an odd one for Rhames. He is known mostly for playing roles that require muscle—bouncers, bodyguards, police officers. Equally, if not more troubling, the last time Rhames played a Christian character, he was a choir master and organist by day and a popular homosexual drag queen at the local nightclub in Robert Townsend's made-for-TV film "Holiday Heart." Seeing Rhames as a pastor was quite difficult for me, in light of this 2000 melodrama.
The central messages of forgiveness, triumph over personal obstacles, and the power of choice, are all great principles for Christian audiences. Sadly, these messages have been wrapped in the same-old-same-old packaging. The film's redeeming qualities are the lack of vulgarity and rampant sexuality which would typically be found in films centered in the urban jungle. Of course, one would not expect anything different from a Christian film distributor like Cloud Ten ("Left Behind," "Waterproof").
Violence: Mild / Profanity: Minor / Sex/Nudity: None
See list of Relevant Issues—questions-and-answers.
none
---